Carrier Named Best HVAC Company by U.S. News & World Report for Second Consecutive Year

INDIANAPOLIS – Mar. 20, 2023
Carrier brands again hold first and second place on 2023 list
Carrier has been named the best HVAC company of 2023 by U.S. News & World Report's 360 Reviews team. This is the second consecutive year that Carrier ranked No. 1 and its Bryant brand ranked No. 2. Both are part of Carrier Global Corporation (NYSE: CARR), the leading global provider of healthy, safe, sustainable and intelligent building and cold chain solutions.
Reviewers found Carrier to have the most technologically advanced, innovative, reliable, and high-quality products, which are also among the most energy-efficient and quiet. In addition, the number of products and options Carrier offers was viewed as a differentiator.
"This recognition underscores our commitment to delivering HVAC systems that are smarter, more efficient, and more cost-effective," said Justin Keppy, President, NA Residential & Light Commercial HVAC, Carrier. "We are innovating to provide our customers with what they need to create healthier homes and reduce energy bills."
Carrier manufactures and installs a full range of products to address homeowners' comfort, health and budgets. This includes air conditioners, furnaces, heat pumps, ductless and variable refrigerant flow (VRF) systems, and air purification units.
U.S. News evaluated HVAC companies based on system cost, unique warranty features and customer satisfaction. U.S. News' 360 Reviews team applied a methodology that includes professional and consumer ratings and reviews, as well as research comparing various features of HVAC systems.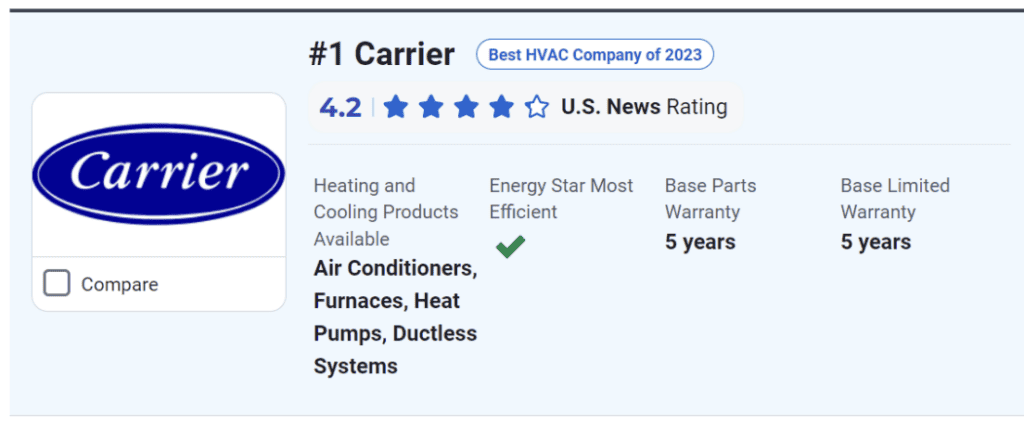 Ranked #1 in Best HVAC Companies of 2023
Best for:
Anyone looking to purchase from the industry leader
Homeowners who value a quiet system
Those concerned with energy efficiency
Not recommended for:
Shoppers on a budget
Consumers who want the best possible warranty
Professional reviewers say that Carrier builds some of the quietest, most energy-efficient HVAC systems on the market, but they're also some of the most expensive. Carrier may be worth the investment, especially if you want the reassurance of owning a name brand air conditioner.
All Carrier air conditioning systems and heat pumps use either single-stage, two-stage, or variable-speed Copeland compressors and feature Puron, the registered trademark for the company's R-410a non-ozone refrigerant. Carrier furnaces have single-stage, two-stage, or modulating gas valves and either fixed-, multi-, or variable-speed blowers. The furnaces are primarily fueled by natural gas but may have the ability to be converted to liquid propane. Carrier has four furnace models that use oil as fuel.
In addition to central air, heat pumps, and furnaces, you can purchase packaged systems, ductless mini-splits, air handlers, air purifiers, humidifiers, and more from Carrier. The company also has several thermostats available, including smart thermostats you can control from your mobile device.
Because there are so many options and other factors that determine the final cost, Carrier says its installed products range from about $3,000 to $15,000. It offers three series of products, including its flagship Infinity series, middle-of-the-road Performance models, and basic, budget-friendly Comfort options. To determine which is best for you, contact a Carrier dealer who can evaluate your home and needs. The dealer will provide a final price for the system, which can vary based on location.
Carrier requires all its products to be installed by North American Technician Excellence (NATE)-certified technicians who have been trained at their Indianapolis factory. This ensures the unit is installed properly, and that the technician is qualified to maintain and repair it in the future. Properly installed and maintained, a Carrier air conditioner should last for 10 to 15 years, according to the company, although reviewers indicate it could last much longer.
Reviewers cite the biggest drawback to purchasing a Carrier HVAC is its warranty, which is a relatively short 10 years and covers only functional parts. It doesn't include labor, Puron refrigerant, or normal wear and tear. If you don't register your unit within 90 days of installation, the warranty is only good for five years.
How Much Does Carrier Cost?
Carrier offers installed air conditioners and heat pumps that range from around $3,000 to $15,000 or more. The final price for a system includes not only the cost of the unit but also labor, profit margins, and local taxes. Also, the scope of the job varies from house to house. Some houses may need duct work, and you may want to include upgrades such as a ComfortZone II thermostat.
Its installed furnaces cost somewhat less, ranging from around $3,000 to $7,500 or more. Again, the final price depends on labor and other factors. The size of the house comes into play as well.
The company has three HVAC series with options to fit almost every budget. The Comfort series is Carrier's least-expensive line, while the premium Infinity series tops the list both in terms of features and cost. The middle-of-the-road Performance series delivers reliability for approximately $5,000 to $8,000.
Some units come with federal and local rebates of $500 or more. HVAC products recognized as Energy Star Most Efficient, such as the Infinity 24VNA0 and 24ANB1, qualify for a $300 federal tax credit. Local rebates can range from $100 to several hundred dollars.
Carrier offers financing through Wells Fargo Bank and lease-to-own options through Microf.
Carrier Products
Carrier has three levels of products: Infinity, Performance, and Comfort. The Infinity series features the company's latest technologies and best features. While the Performance series has some upgrades, reviewers describe it as the middle-of-the-road option for those who don't need or have the budget for the extra efficiency or technology. The Comfort series is the budget-friendly alternative. However, it comes at the cost of energy efficiency and the quietness of Infinity and Performance models.
Air conditioners
According to professional Carrier air conditioner reviews, the company's AC units are among the quietest and most efficient in the industry. Its flagship 24VNA model has a SEER rating of 26 thanks to its inverter-driven, variable-speed compressor that is designed to operate nearly continuously. As a result, it maintains a more consistent temperature. Additionally, its superior sound blanket allows it to do so while running at a sound level as low as 51 decibels. Carrier's AC units feature:
Single-, two-, and variable speed Copeland compressors
SEER ratings up to 26
Sound level ratings as low as 51 decibels
Air purification included on some models
Heat pumps
While Carrier only has 11 heat pumps (versus 16 air conditioners), the lines are comparable. Like its top-of-the-line air conditioner, the Carrier's premier 25VNA4 heat pump has Greenspeed Intelligence that helps maintain the home's temperature and a sound rating as low as 51 decibels. It has models available for every budget, including the more economical 25HCE4 that offers Carrier quality with standard comfort features. Carrier's heat pumps feature:
Single-, two-, and variable speed Copeland compressors
SEER ratings up to 24
Sound level ratings as low as 51 decibels
HSPF rating of up to 13
Furnaces
Carrier has a wide range of furnaces with options available in its Infinity, Performance, and Comfort series. Its most advanced furnace, the 59MN7, boasts an AFUE rating of 98.5 percent, meaning that 98.5 percent of the fuel used is converted into heat. While most of Carrier's furnaces use natural gas only, some have the ability to convert to liquid propane and others are fueled by oil. Carrier's furnaces feature:
Single-stage, two-stage, and modulating gas valves
Fixed-, multi-, and variable-speed blowers
AFUE ratings of up to 98.5 percent with most above 90 percent
Models designed to meet California regulations
Other products
The company also sells ductless systems, packaged products, geothermal heat pumps, and other HVAC solutions in addition to air conditioners, heat pumps, and furnaces. If your system doesn't already have these options, you can purchase air purifiers, humidifiers, dehumidifiers, and carbon monoxide alarms. Carrier also makes smart thermostats that allow you to control your HVAC system through your mobile device.